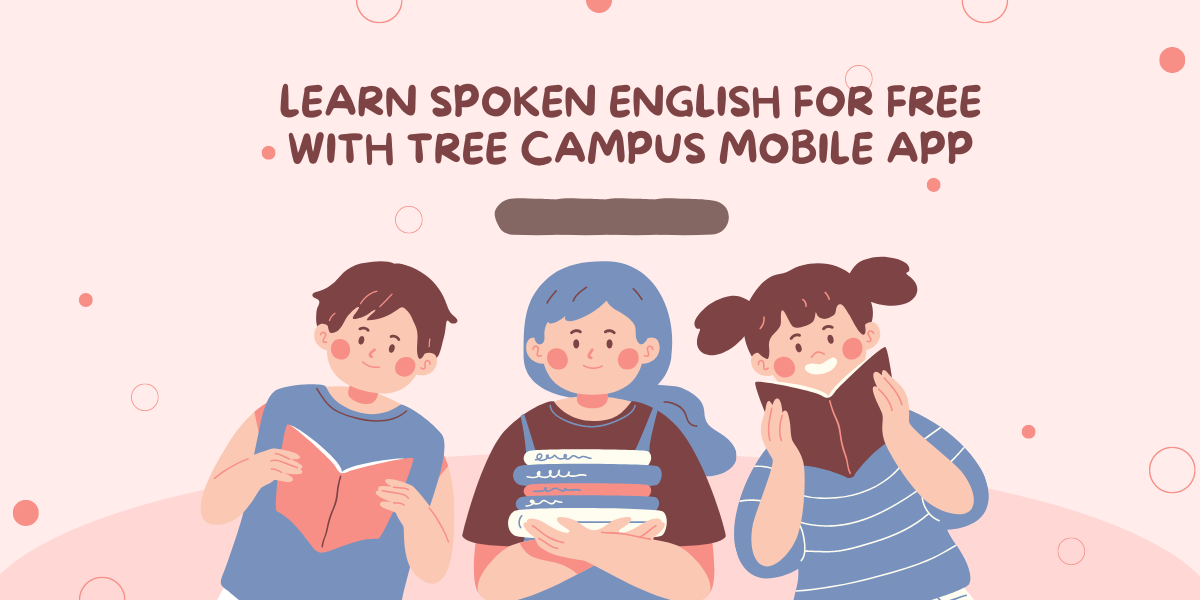 convenient mode of gaining knowledge.
There are several online courses, and mobile apps to help you grab the knowledge, and Tree Campus free app is one such platform to access FREE Spoken English course. All the modules and tutorial videos are available free of cost for both learners and educators. It contains free
online spoken English courses by experienced teachers, who make learning fun and easy. The course compiles both textual and video content. It is a "90-day free spoken English course Mobile APP" that will help in learning English fluently. This app also includes "Live classes" and "Contest Quiz" apart from the English learning course mentioned below.
Some salient features of the app are:
FREE online Spoken English course with both textual and video content by experienced teachers
User friendly
Provides FREE Study materials
Interactive classes with multi-lingual course material
Learning through fun gaming sessions
Proper assessments
Flexible timing and environment
Some major advantages of learning Spoken English through the Tree Campus Mobile APP are:
Convenience
You no more need to make time for going to classes to learn. Online learning helps you join classes from the comfort of your home. This saves an ample amount of time and resources.
Learning in a fun and easy way
The app comprises several quizzes and games that are quite interesting to solve. Live classes give you the opportunity to interact with your trainers and clear doubts and confusion.
Less Hesitation
The online platform is a great aid for introverts who may find it hard and unnerving to interact in a large classroom environment. Consequently, one begins to find it less intimidating in interacting with a personalized tutor and getting their mistakes corrected.
The Tree Campus Free Online Spoken English course is divided into three main parts:
Part 1, Part 2, and Part 3.
Part 1: This part mainly introduces the course, including basic concepts and the curriculum. It contains lessons for the first thirty days, including 148 lessons in total and 30 quizzes for all levels. It has both textual and video content. Topics included in part 1 are – Parts of speech –its uses and importance, Sentence types, Noun synopsis, pronouns, Adjective, Phonetics, Tenses, Narration, Voice, conjunctions, Prepositions and Clause types.
Part 2: It contains 105 lessons and 30 quizzes for all levels. The lessons here are also divided over the next 30 days and both textual and video content is available. Topics covered in part 2 are – Tenses, Revision of earlier classes, Subject Verb Agreement, Meeting Conversation, Helping & Auxillary Verb, Idioms, Modals, Gerund & Infinitive, Sentence Transformation, Interjection and Exclamatory Sentences, and Conversation Types.
Part 3: Part 3 consists of 60 lessons in total. The lessons are again divided into 30 days but there are no quizzes in this part for all levels. The topics covered here include – Conversation skills, Useful Phrases, Revision of previous lessons, Various kinds of Moral Stories, First impressions, Self-Introduction, and interviews.
How to get Tree Campus mobile APP for learning Spoken English for FREE?
Go to the play store on Android or App store on iPhone and search for "Tree Campus app" and install it.
Play Store Link to Learn Spoken English for FREE: https://play.google.com/store/apps/details?id=com.academy.tree_campus
Once you have the app on your phone, register yourself and are done! You can start your fun journey of learning Spoken English for FREE